Uniform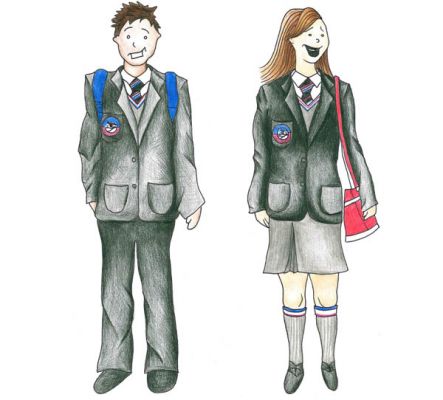 Students of Breda Academy are expected to dress smartly and in compliance with the school uniform requirements. A school is both a community and a working environment. Smart uniform is one way in which we express our readiness and our determination to promote a positive image for ourselves and our fellow students within and beyond the school.
Our uniform requirements have been drawn up to be as clear and unambiguous as possible so as to keep to a minimum those discussions about uniform which can detract from learning.
School Uniform
Black Blazer (Year 8—12)
Burgundy Blazer (Year 13—14 )
White shirt (shirts should be tucked in and top button fastened)
School tie (suitable length)
Grey V-neck jumper with blue, white and burgundy stripe
Black trousers (Boys)
Grey knee length kick pleat skirt
Plain black shoes
Grey school socks or plain black tights (Girls)
Plain dark socks (Boys)
Plain Black/Navy overcoat
Regulation school scarf
The only jewellery allowed is a watch and one pair of small stud earrings (maximum one in each earlobe).
PE Kit
The compulsory elements of the PE kit are the branded kukri kit in the school colours with a blue main colour and purple accent colour:
Footwear for PE should be trainers with light or non - marking soles and laces must be tied.
Breda Academy, Newtownbreda Road, Belfast,
County Antrim, Northern Ireland, BT8 6PY
Phone: 02890 645 374