Uniform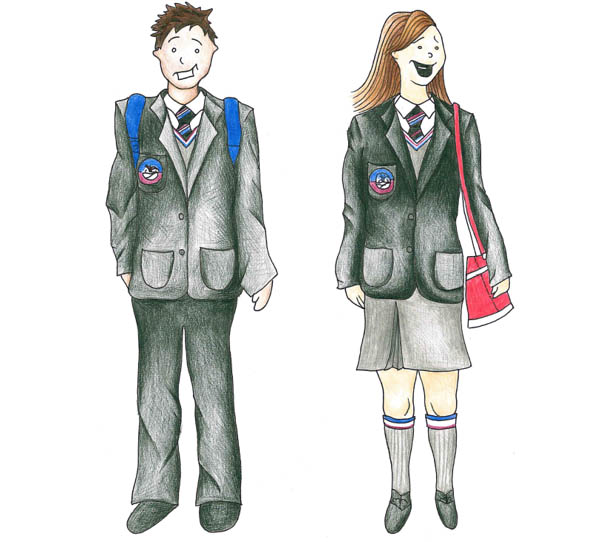 OUR SCHOOL COMMUNITY
Students of Breda Academy are expected to dress smartly and in compliance with the school uniform requirements. A school is both a community and a working environment. Smart uniform is one way in which we express our readiness and our determination to promote a positive image for ourselves and our fellow students within and beyond the school.
Wearing a uniform ensures all students feel welcome. It promotes inclusion and relations between different groups of students.
Girls
Boys

Black Blazer (Year 8-12)

Burgundy Blazer (Year 13-14)

White shirt

School tie

Grey school jumper

Grey knee length kick pleat skirt

Grey school socks or plain black tights

Plain black shoes

Black Blazer (Year 8-12)

Burgundy Blazer (Year 13-14)

White shirt

School tie

Grey school jumper

Black trousers

Plain dark socks

Plain black shoes
UNDER BLAZERS
The only item of clothing that is allowed to be worn under your school blazer is a grey Breda school jumper. (Hoodies, sweatshirts and tracksuit tops are not permitted.)
OVER BLAZERS
Students may wear a dark outdoor coat to and from school. Outdoor coats can be worn over blazers outside at break and lunch and must be taken off when entering the school building and/or inside.
SCHOOL SCARF
The Breda school scarf is the only scarf that is allowed to be worn.
HAIR
No extremes of colour and/or style are permitted.
JEWELLERY
Students may wear the following items: one watch, one small ring, one pair of small stud earrings in the lower lobe, one small stud in nose.
NAILS
For reasons promoting the Health and Safety of all, students are not permitted to have long or pointed nails.
MAKE-UP
Should be discreet and kept to a minimum.
PE Kit
The compulsory elements of the PE kit are the branded kukri kit in the school colours with a blue main colour and purple accent colour:
Boys:
Girls:
Skort and/or black leggings
Top
Socks
Footwear for PE should be trainers with light or non - marking soles and laces must be tied.
Only permitted school uniform is allowed to be worn on our school premises.
If a student is seen wearing an item of clothing other than the permitted school uniform, they will be required to store the item in our secure cloakroom and it will be returned to them at the end of the school day. If a student refuses to do this, it will result in parental contact and SLT sanction.
The school reserves the right to contact parents/carers and arrange for students to be sent home to rectify unacceptable uniform/appearance.