TextHelp 'Read & Write'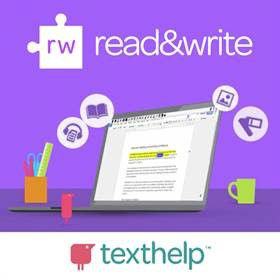 FREE Computer Software Now Available for Breda Academy Students
All Breda Academy pupils are now registered to download and use TextHelp's 'Read & Write' software at home for FREE.
Read & Write is a toolbar available for all pupils to download for FREE at home and to also use on school computers. The toolbar has a number of excellent features to guide pupils' work, such as: dictionaries and picture dictionaries; text to speech generators; spelling, punctuation and grammar checkers; research highlighters; and a range of other useful features that can be used to form a personalised toolbar that suits your learning needs.
This software makes extended pieces of writing more accurate, and makes researching more efficient; this is particularly valuable for pupils studying for GCSE and A Level examinations.
Read & Write can be downloaded on to laptops, PCs and tablets, and on to Windows, Android, iPads, Macs and Chrome Book devices.
Please follow the instructions below to install this FREE software on to your devices:
Using the device you want to download the software on to, open up the webpage https://www.texthelp.com/en-gb/products/read-write/
Click 'Try Now'
Select your platform (Android, iPad, Windows, Mac OS etc.) and click 'Install'
You'll be directed to the easiest and fastest way to install; follow the instructions
The first time the programme runs, you'll be asked to log in with an email address. Choose 'Microsoft Account' and key in your school email address (using the ending @c2ken.net)
Enter your password, and you should be good to go!
Once the software is downloaded, there will be automatic updates when the device is connected to the internet, so you should always have the latest version of Read and Write.
If you are having difficulties downloading the software, or have questions about how to use Read & Write, please go to https://www.texthelp.com/en-gb/products/read-write/
There are also several YouTube tutorials about how to use the various features of Read & Write https://www.youtube.com/watch?v=4Bp0to8a9Z0
Breda Academy, Newtownbreda Road, Belfast,
County Antrim, Northern Ireland, BT8 6PY
Phone: 02890 645 374