NIFL Football Academy Scholarship
NIFL Football Academy Scholarship

BTEC LEVEL 3 EXTENDED NATIONAL DIPLOMA IN SPORT STUDIES – FOOTBALL SCHOLARSHIP
The students are currently engaged in a two-year football scholarship based at the National Football stadium and Breda Academy, under the watchful eye of the Football Academy and the Northern Ireland Football Association. Many of these students are now playing in the highest league in Northern Ireland and we have had one ex student who is currently representing Northern Ireland at Senior International level.
COURSE OVERVIEW
The FOOTBALL SCHOLARSHIP at BREDA ACADEMY is a two year Full Time Education course for Post 16 Students (male & female) who have a desire to progress their playing, coaching and academic careers.
In partnership with the NORTHERN IRELAND FOOTBALL LEAGUE (NIFL) this course will provide the best young players within the NIFL Academy League and associated NIFL Leagues the opportunity to enrol on a full time course of study that will provide the players with the Academic Qualification (3 A-Levels in Sport Studies) along with a specialist daily training programme to compliment what they receive at their local Football Club.
It is also aimed at those students considering education options at Post 16 and those that wish to gain the necessary qualifications to move on to Higher Education or take up employment in the Sports/Football Industry.
Players will be educated at the National Stadium, Windsor Park and use the fantastic playing and gym facilities at Olympia Leisure Centre. They will also receive the full pastoral and academic support of BREDA ACADEMY teachers in many of the Career and Enrichment Subjects that are essential at Post 16 Study.
QUALIFING CRITERIA
Must represent a NIFL Academy Club or team in an associated league and be playing football on a regular basis.
Candidates must have a minimum of 5 GCSE (Grade C or above) with preference given to those who gained Grade 'C' or above in GCSE English and Physical Education
Nominated for Scholarship or Reference from current club
COURSE OUTLINE
QUALIFICATION: BTEC LEVEL 3 EXTENDED NATIONAL DIPLOMA IN SPORT STUDIES
(168 UCAS POINTS) Equivalent to 3 A-Levels
Players will study Full Time with this sports qualification being equivalent to 3 A-Levels and covers a range of topics and the required UCAS points to progress to University.
Students will also get the opportunities to attain a range of other sports/football related qualifications such as Irish FA Level 1 Coaching Badge etc to prepare them for employment in the Sports/Football Industry.
PLAYER DEVELOPMENT ELEMENT
Participants will receive expert/specialist coaching from UEFA 'PRO' and 'A' Licence Coaches on a daily basis throughout the year. This coaching is based on what Academy Players would receive at a Professional Club. This Full-Time training programme will aid the player's acceleration to Senior/First Team Football and prepare and equip them with the necessary attributes to have a successful career in the NIFL Irish League or even better a move to Full Time football in England or Scotland. From the inception of the course, we have 2 players sign Professional Contracts with Football Clubs in England, 11 sign Professional contracts with Irish Premier League Clubs and 5 attain USA Scholarship Opportunities. Currently there is in excess of 40 current and past students who have represented their respective football clubs at 1st team level within the top three leagues in Northern Ireland.
COACH DEVELOPMENT ELEMENT
This course will also prepare the students with the necessary qualifications and experience to pursue a career in coaching. Specialist Tutors will educate and mentor the students and engage them in a process of learning and work based coaching opportunities within Primary Schools, Local Clubs and Commercial Sports/Football Companies. In the second year of the course all students will get the opportunity to avail of Job Opportunities in the USA. To date over 80 students have gained their IFA Level 1 Coaching Certificate with many working full and part time within the coaching industry.
TRAINING AND CONDITIONING FACILITIES
The aim of the NIFL Academy Player Scholarship is to re-create the learning and playing environment that a young professional footballer in England or Scotland would experience. To this extent we have chosen some of the best, most up to date and inspiring facilities to educate and give our young players the best opportunity to succeed.
The players will be educated in a state of the art classroom within the National Stadium Media Centre.
The players will have full use of the adjoining brand new and state of the art Olympia Leisure Centre with 4G pitch, weights room, conditioning suite and swimming pool. UEFA 'A' and Pro' licence coaches and Sport Scientists will work with the players to maximize their use of these facilities to improve their TECHNICAL AND TACTICAL ability and also their STRENGTH & CONDITIONING through a specialized training programme.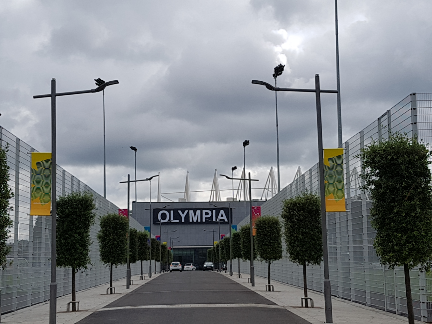 PROGRESSION ROUTES
HIGHER EDUCATION – Students will attain the necessary qualifications to gain entry to all of the major Northern Ireland and UK Universities. The vast majority in excess of 70% of graduating students progress to the many sport based Further or Higher Education Courses throughout N.Ireland, England and Scotland.
COACHING OPPORTUNTIIES – Students will also be provided with the opportunity to avail of life-changing work placements in Asia and the USA. These opportunities will provide through our official USA based organisations Challenger Sports and UK Elite.
PLAYING OPPORTUNITIES – Our staff will work closely with the Head of Academies and Team Managers/Coaches at each of the NIFL clubs involved to ensure all players' needs are being met. Along with the training players will get the opportunity to play against other school, colleges and representative teams from both Northern Ireland, UK and Europe.
Please fill in the interest form below to register your interest in the NIFL Elite Player Scholarship Education Programme. The information obtained will be confidential, for our records, and only used to contact you for an invitation to an information session at your choice of regional centres.