This is Breda - Hall of Fame
This is Breda - Hall of Fame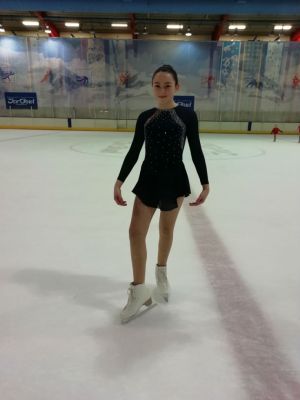 Carter Rush Year 14
Carter plays for the Under 18 Ireland Lawn Bowls Team and has celebrated winning silver at the British Isles Under 18 Mixed Championships in Scotland. Carter started playing lawn bowls when he was 13 and was playing for Ireland by the time he was 14.
Alyssa Ross Year 12
We were so proud to hear that one of our Year 12 students, Alyssa Ross, was recently made The Under 16 World Jazz Champion at the World Lyrical Dance Championships, which were held in Stratford Upon Avon. The competition attracted competitors from all over the world and Alyssa was one of the top 6 entrants who got to dance on the Royal Shakespeare stage, which was an honour in itself. Alyssa will hold this award until 2021. She has been dancing since the age of 8 and as well as Jazz, she practises Lyrical and Freestyle.
Jack Veighey Year 10
Jack Veighey is not just a Year 10 pupil at our school - he's also an actor on a BBC programme! Jack auditioned for 'Pablo', a Cbeebies programme, back in early 2016. Jack was selected firstly from 360 applications, then down to the final 40 shortlist and then he made it to the final 7 who star on the show.Jack has recorded voiceover parts for series 1 and also in March 2018 for series 2, which is due to air shortly.
Ben Willis - Year 13
Ben achieved an amazing A* in his Art GCSE, with a mark of 99%. We are pleased he is continuing his A Level studies in Art, Psychology and Moving Image Arts at Breda Academy.
Callum Ferris - Year 14
Callum is a student on the Football Scholarship Programme and has been called up to the Northern Ireland U-21 International Football Squad. This is a tremendous achievement by Callum and recognition of the hard work and dedication he has put in over the past year on the Football Academy Scholarship Programme.
Olivia Young - Year 13
Olivia not only achieved a very impressive A* in her Art GCSE, she actually obtained a mark of 100%. Olivia is continuing her A Level studies in Art, English Literature and Moving Image Arts at Breda Academy.
Aimee Woods - Year 13
Congratulations to Aimee Woods in year 13 who achieved a distinction in her Grade 7 Singing exam. Aimee is a dedicated member of our school choir and recently played the role of Killer Queen in our school production of We Will Rock You. A fabulous achievement, the Music department are very proud of her and I am sure the whole school will wish her good luck as she starts working towards her Grade 8 Exam.
Luke McConnell - year 9
Luke is a member of Templemore Avenue Swimming Club. He has been swimming competitively for 3 years and currently trains for four hours a week. He plans to keep swimming competitively and of course, add to his collection of medals.
Jack Fenton - year 11
Jack started racing motorbikes in Motocross 4 years ago. He travels all over Northern Ireland taking part in competitions and his most recent achievement was winning second place in Bushmills at the BDMCC. Jack races with Team Paw Racing and he loves the adrenaline rush from this sport.
Cody Houston - year 9
Cody Houston in 8F spends his free time speeding around the ice rink at Dundonald Ice Bowl. Cody says he first started going to public skating sessions and soon after, began lessons. He currently goes to his lessons every week and trains every Tuesday night with the Junior Belfast Giants. Cody's ambition is to play for an ice hockey team when he's an adult and he is quickly working his way through the ice skating grades (currently a grade 7 out of 10)!
Joanna McAdam - year 9
Joanna started running in P6 and since then has entered 5K races, fun runs, triathlons and competed in cross-country events. Joanna runs every Thursday night with the Willowfield Harriers and her goal is to run a marathon.
Chloe Mooney - year 9
Chloe has been figure skating for 3 years. She practises 3 times a week and has 2 lessons, one private and one group lesson with her coach, Amy Irwin. Chloe has passed grades 1 to 10 and Bronze, Silver and Gold and now she is working towards her Level 1. Chloe loves ice skating as a sport and for pleasure with her friends.
Breda Academy, Newtownbreda Road, Belfast,
County Antrim, Northern Ireland, BT8 6PY
Phone: 02890 645 374