Welcome to Our School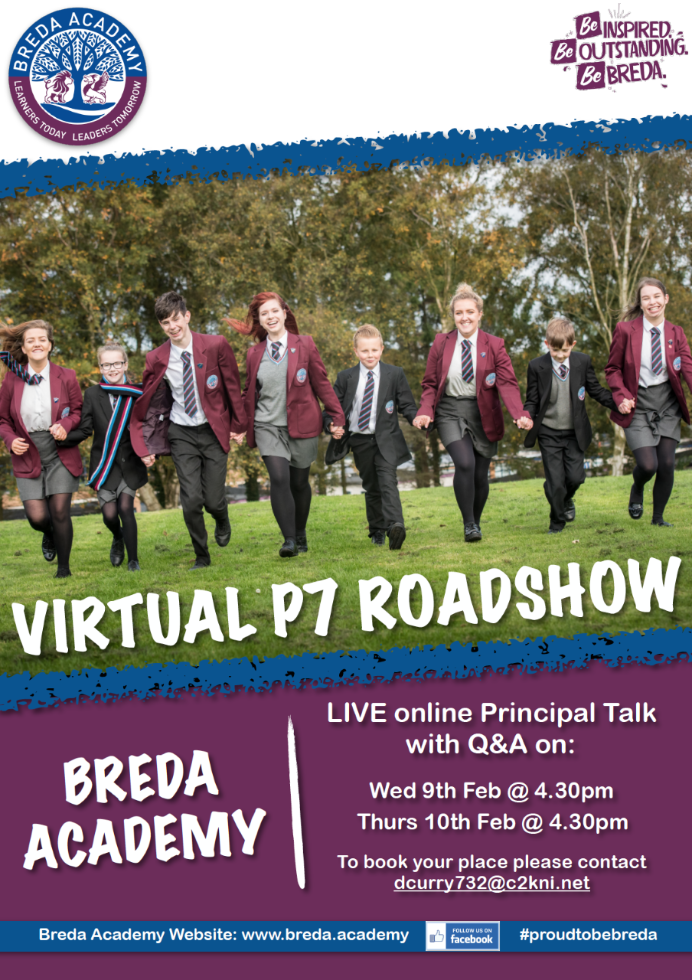 Welcome P7 Students and your Parents or Careers to the Admissions 2022 section of our website. We are delighted that you are considering joining our school community. As we are unable to hold our Open Evening this year, we feel that it is very important to give you an insight into life at Breda Academy. On this page you will find the Principal's Welcome and 3 videos that we hope you enjoy. The first video is Mr Perry's presentation about our school. There is a video to give you a flavour of school life for students and there is also a photograph montage of students from local primary schools taking part in one of our past Breda Bonanza days. We do hope that you will chose Breda Academy and we look forward to meeting you in the near future.
PRINCIPAL'S WELCOME
It is an exciting time at Breda Academy as we go from strength to strength! As the Principal I am honoured to be leading this vibrant and successful community school in South Belfast with over 650 students aged 11 to 19 and 90 staff. I am especially pleased that for the past five years our examination results have continued to increase. Last year we achieved record breaking results- our Year 12 students achieved 90% 5 or more A* - C GCSE or equivalent grades and over 57% of our Year 14 students achieved 3 A* - C A Level or equivalent grades.
We continue to MOVE FORWARD as a community and in September we welcomed 100 Year 8 students who are now flourishing and enjoying school. We are very proud that the Academy offers all students a 7-year learning journey. Our 6th Form continues to thrive and we currently have over 160 Year 13 and 14 students studying A-Level and Level 3 qualifications. I am delighted that after their 7-year journey with us, our recent Year 14 leavers are MOVING FORWARD to take up their place at a prestigious university, starting an apprenticeship or beginning their working career.
We place our students at the heart of all we do and provide them with excellent pastoral care to promote their wellbeing. The Academy provides an inclusive and diverse curriculum and a wide range of qualifications. We strive to develop our students' education, skills, and resilience to be successful lifelong learners, confident individuals and responsible citizens.
This year, I am delighted to offer an exciting opportunity for P7 students and their parents/carers to learn more about our thriving school community, in preparation for choosing a post-primary school. You are warmly invited to attend one of our VIRTUAL P7 ROADSHOW EVENTS taking place live and online this January. Please email dcurry732@c2kni.net by Monday 17th January to book your place and receive your 'Zoom' link.
Please join us on our exciting journey!
Mr P Perry - PGDH, MA, BSc, PGCE
Principal
#proudtobebreda
Breda Academy, Newtownbreda Road, Belfast,
County Antrim, Northern Ireland, BT8 6PY
Phone: 02890 645 374